Only 5 days left until Christmas. Hopefully, you have already completed all your Christmas shopping so you can relax this weekend and visit some of the following venues. Because a lot of you have now some days off, we have brought together some festive treats at a number of our favourite spots around London.
Also for all these which have still no plans for New Year's Eve, we'll show you some of the best parties in town where are still tickets left to join. Time is running so book your tickets asap!
Alice in Winterland Lantern Festival 2018
Alice was bored of the Wonderland so she moved to London. Now she lives in Southwark Park in a Winterland, a Winterland full with lanterns. See there over 150 handmade lanterns which show you the fairy-tale from 'Alice in Wonderland' and 'Through the Looking Glass'. See there the 5 meters tall Alice, The Mad Hatter's tea party and all the other friends from Alice. You can also slide down the Rabbit hole of the Queen's heart or visit Santa's Grotto. Alice in Winterland is once a bit different from all the other Christmas lights and laser installation. Let yourself be enchanted by the shine of the lanterns. The entry for students is £13.50 and for adults £16.50. If you want to visit Santa's Grotto you have to pay extra
Bumper Cars on Ice
Apart from all the Christmas things around London. There is something you've never seen somewhere else in London. Head to Elephant & Castle for another unusual ice rink experience. There you don't have to only skate on the ice rink! You can also jump on a Bump and slide on the ice while a live DJ plays nice tunes. You can also delicious food and classy winter drinks there during a break. This event is running until the 6th  of January so if you have no time this weekend there is still some time left to join this fun event.
CHURCHILL ARMS
Head to Notting Hill to see the most festive pub in town! The Churchill Arms decks his exterior every year with 90 Christmas trees and over 11,500 lights. In summer it's well known for its nice flowers outside. It was also the very first pub which started serving Thai-food. The pub doesn't get his name directly from Winston Churchill itself, but his grandparents were often seen in this pub. They say this is probably the reason for the name. If it's true or not, nobody knows, but we know that this pub is a must-visit at any time of the year.
Students in our Notting Hill residence must know this pub as is it's almost next door to you. If not you definitely should pay a visit!
KEW GARDENS
Have you ever been to the Kew Gardens? Its lovely isn't it! However, if you have never been or you're not really interested in the Gardens themselves, this could be interesting for you! You almost must see this. This week Kew Gardens has an after dark light installation. Christmas at Kew shows you over 1 million lights on the trails and trees. On one field you can find a sea of 10 thousand dancing bulbs. Be enchanted while you walk through the enlightened glitter tunnel and watch how the laser lights dance in the night. Tickets are available from £16.50. The closest tube station is Kew Garden itself or Kew Bridge rail station.
WINTER WONDERLAND
Over 10 years Winter Wonderland is one of London's best-known winter attraction. Located in the heart of the city in Hyde Park, Winter Wonderland is UK biggest outdoor ice rink and this year it's even bigger.  Besides, it comes back for you with even more new attractions. Meet 'Peter Pan on the Ice', joining ice sculpting workshops or visit the comedy club there. One spectacular new attraction is the secret forest with ice sculptures. In the end, you can find there as well an ice throne where you can take pictures. Make sure you are warmly dressed its around -10 degrees there.  Or just stroll through the open-air Christmas market, the street food stalls and the festive bars. Enjoy over 100 attractions and rides, live music and don't forget to enjoy yourself!
For students living in our Bayswater residence is this perfect located
NATURAL HISTORY MUSEUM
Find yourself in a fairy-tale at Natural History Museum. The ice rink is just in front of the Museum. Even when you don't like skating you can enjoy it from the outside. Take the escalator to the 1 level and enjoy a hot chocolate in the Café Bar there. Watching through the bird's eye view from the café of the rink while you sipping at your drink. There are various opening times so check them before you go. The prices also vary, the cheapest adult ticket being £12.65. There are special offers for Students, where you'll receive a free drink. Located in South Kensington you can also visit a museum or even two because they are free.
Perfect if you are staying in our Notting Hill, South Kensington or Fulham residences.
So now the emergency solutions for New Years Eve
Guilty Pleasures at KOKO
Have you ever heard about Guilty Pleasures? It's a band they play in clubs around London and they present you a whole range of music and genres. So Guilty Pleasures means you don't like one specific genre like Pop, Dance or Hip Hop. It includes almost everything, almost every song with whom you can make the party with it. It guarantees a lot of fun! Time Out said once it's "one of London's best parties. Don't be guilty, indulge yourself." So don't miss this great New Year's Eve party! They started already their 3rd  release so hurry and get your tickets.
This is the perfect venue for our students in our Camden Lock and Chalk Farm residences.
SW4NYE
The famous South West Four festival from Clapham Common presents you an ultimate New Year's Eve party. They present you spectacular DJ's from around the globe in the O2 arena in Brixton Academy. These tickets are selling very fast but still aren't sold out. Hurry to get these popular tickets they just started they 6th release and probably ad well their last.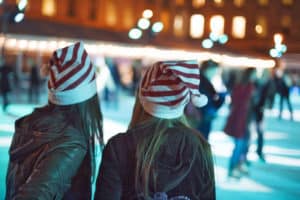 A very lovely Christmas and a Happy New Year to everyone!
We are London Homestays, an independent provider of student accommodation and English language tuition in London, UK. Contact us if you're a student, trainee or intern and we will help you find a homestay or residence in London!