STEP 1
Please review the terms and conditions for group homestay bookings and the FAQs for group homestay bookings, and once you are happy to proceed, please complete the enquiry form or email us to request further information.
IMPORTANT: Students staying in group accommodation will stay in multiple or twin rooms in groups of 2s, 3s or 4s. Please note that during peak season and/or for larger groups, it may be necessary to host up to 5 students. Please ensure when making your enquiry that you let us know if you wish to use hosts who only accommodate up to 4 students. Please note this is subject to availability and can not be changed once the host families have been allocated.
STEP 2
Our team will receive your request and check availability based on your group size, requirements and the dates you wish to travel.
STEP 3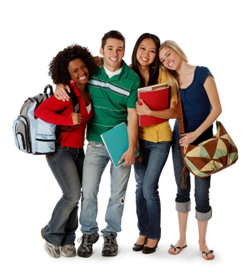 Within 24 – 48 hours of your application, we will send you a response via e-mail. If there is no availability for the dates you wish to travel, we will let you know if we have availability for alternative dates, or for alternative locations.
STEP 4
Once it has been established that we have availability for your dates, we will give you the full details of the centre where your group will be placed (fare zone, rates, meeting point etc), and confirm with you that you wish to proceed. You will then be given an 'option date', usually in approximately 4 weeks time, by which date we will ask you to either confirm you wish to book, or cancel the request. Please also let us know at this stage if you wish to book any supplemental items, or group activities with our agency.
STEP 5
If you wish to proceed with the booking, we will send you a quotation, which will include the terms and conditions for booking (dependent on the centre which is being used). When your group are ready to make payment, simply let us know, and we will issue an invoice. Please note for smaller groups (20 pax or less) and if the arrival date is less than 10 weeks away, we will require payment in full as soon as possible, so one invoice will be sent to cover the total booking value. Otherwise we will send you two invoices, one of which will be for the deposit (20% of the balance total, or £500, whichever value is higher) to be paid by your option date. The second invoice will be for the remaining balance, which will need to be paid no less than 28 days prior to your group's arrival.
STEP 6
Once the deposit (or full) payment has been received in our account, the booking can then be confirmed.
STEP 7
Please send us the travel details (ensuring there are no week-day morning or afternoon arrivals) and passenger list, including any special requests per individual students (allergies, dietary requirements, preferences such as no pets, etc) at least 6 weeks prior to arrival. Please include which students wish to share with who (we will try to match as best we can, but please note this may not always be possible), and we will send you back a confirmed rooming list.
STEP 8
Please arrange for travel insurance for all passengers in your group to cover any loss, theft, damage, injury or cancellation.
STEP 9
Finally, we send you an email introducing you to your designated local organiser, including their contact details so that they can liaise with you regarding any remaining small details. Enjoy London to its fullest!