Like each summer, Buckingham Palace will soon open its doors for you to visit!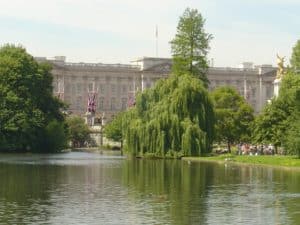 The official residence of the Queen is indeed opened to public from 21 July to 30 September for the summer 2018. (https://www.royalcollection.org.uk/visit/the-state-rooms-buckingham-palace)
You can discover the State Rooms and some of the Royal Collection's treasures. This year special exhibition is about the 70th birthday of Charles, Prince of Wales.
This year opening especially includes:
Paintings by Rembrandt, Rubens, Vermeer, Poussin, Canaletto and Claude
Sculpture by Canova and Chantrey
Exquisite examples of Sèvres porcelain
Some of the finest English and French furniture in the world
What to see:
– State Rooms: the 19 State Rooms are a suite of lavishly decorated public rooms in Buckingham Palace where the monarch receives, rewards and entertains her subjects and visiting dignitaries. They are beautifully furnished with treasures from the Royal Collection including paintings by Rembrandt, Rubens and Poussin as well classic furniture from England and France.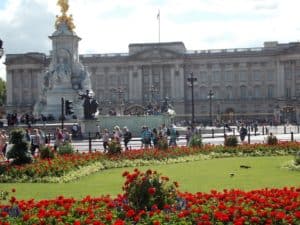 – Throne Room: It contains the thrones that are used for investitures and ceremonial receptions such as at the Queen's Jubilees and has also doubled as a ballroom on occasion. It was the masterpiece of the architect John Nash, and was greatly influenced by his background in theatre set designs.
– The Grand Staircase: Designed by John Nash, as part of his commission to remodel the palace for King George IV from 1825 to 1830, it provides a sense of excitement and expectation for the rooms that follow. The impressive double balustrade features an intricate pattern of acanthus, oak and laurel leaves and represents some of the world's finest bronze casting work. 
Prices:
£13.50 for children
£24.00 for adults
£61.50 for a family (2 adults and 3 children)
Since this event is really popular, you should book your tickets in advance (https://tickets.royalcollection.org.uk/?f%5B0%5D=im_field_customer_type%3A6&f%5B1%5D=im_field_attraction%3A48)
Opening Times:
21 July – 31 August: 09h30 – 19h00 (last admission at 17h15)
1 September – 30 September: 09h30 to 18h00 (last admission at 16h15)
For more information: bookinginfo@royalcollection.org.uk
⇒ And don't forget, if you are a student, trainee or intern, and are looking for an accommodation in London, London Homestays can help you! Contact us here.
One of your biggest dream is to visit Buckingham Palace? It is now possible with the Summer Opening (21 July – 30 September)!

Find out more about it here: @londonhomestays #London #BuckinghamPalace #summer #dream #tourism https://t.co/8NzjWc17Vv

— London Homestays (@londonhomestays) June 27, 2018
Sources: https://www.visitlondon.com/things-to-do/sightseeing/london-attraction/buckingham-palace-top-10
https://www.royalcollection.org.uk/visit/the-state-rooms-buckingham-palace/highlights-of-buckingham-palace#/