No Plans for the weekend? Here is some inspiration for you!
There are only 46 days left until Christmas! As is traditional at this time of year, Oxford Street have now illuminated their lights and the nights getting longer and colder. It's starting to feel a lot like Christmas! Here are the best spots where you can enjoy the 'most beautiful time of the year', including venues for next week.
The Christmas Ones…
The Winter Forest
The Broadgate Circle turns this week to a winter wonderland. You can walk through over 300 snow-covered pine trees while you having your favourite drink. Choose from a range of your favourite winter drinks in the 'Mr Fogg's Winter Terrace Bar' and listening to live music, and you can also do workshops in the Winter Forest during this time. At Christmas, Santa Claus will be there! Located next to Liverpool Street station it's easy to reach. Also easy to reach for our students in the Liverpool Street residence.
Syon's Park 
Dress up warm to walk through the one hour long walk through Syon Park's Enchanted Woodland. See a lot of different illuminations and laser installations with music. The 600 years old Syon Park is already a highlight during the day but in for this event, it comes to life! Pre-book tickets for this event. It's only for three weekends!
Christmas Light Switch On
Oxford Street and Carnaby Street may have already switched on their lights, but there are more to come! Here are some you shouldn't miss.
Covent Garden on 13th of November (5pm-9m)
Did you manage to catch Harry and Meghan's royal wedding? Were you also really impressed by the choir who sang for them in the Windsor castle? Then you have to head to Covent Garden. Watch the 55ft Christmas tree in the middle of 30,000 lights while this choir will sing for you.
Seven Dials on 15th of November (5pm-9m)
If you want to do pre-shopping for Christmas, you should certainly check out Covent Garden. There will be a lot of discounts around the area in shops and even in bars and restaurants. Additionally, you'll have a live orchestra and a pop-up ice rink there as well! 
Regent Street on 15th of November (5pm-9pm)
Perhaps surprisingly, the first street with Christmas lights wasn't Oxford Street, it was Regent Street, which first lit up at Christmas time in 1954. Famous people like Paloma Faith or Colin Firth have previously switched on the lights, so we are excited to find out who it will be this year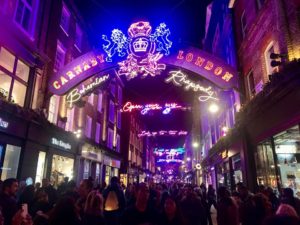 The traditional Ones…
Lord Mayors Show
It's probably one of the oldest and biggest traditional celebrations in London. This annual event heads the city since 1215 when the Mayor of London was supposed to stand by King John. It's an inauguration ceremony for the new Mayor of London. So every year the Mayor of London will be driven by the golden Lord Mayor's coach. With a colourful parade from Bank to Aldwych you can see a range of performances from Samba to marching music and acrobats! The Lord Mayor Show is three miles long including 140 floats and 7'000 performers. It's from 11 am until 2.30pm. Later there will be as well a big firework by the Tower Bridge. During the rest of the year, you can see the golden Lord Mayor's coach in the Museum of London.
Armistice Day and Remembering Sunday
Normally they are on different days but this year they are on exactly the same date. Are you wondering why everybody wearing a poppy or why you see them currently everywhere? It's because of these days. The Poppy is traditionally worn from the 2nd of November until the Armistice Day or Remembrance Sunday. So on Sunday the 11th of November at 11 am will be a ceremony at the cenotaph (a world war memorial) on Whitehall. 
For our students living in Pimlico residence, this is a really short Sunday morning walk for you
A lovely weekend to everyone!
We are London Homestays, an independent provider of student accommodation and English language tuition in London, UK. In 2015, we received the British Council's Accreditation as an accommodation agency. Contact us if you're a student, trainee or intern and we will help you find a homestay or residence in London!