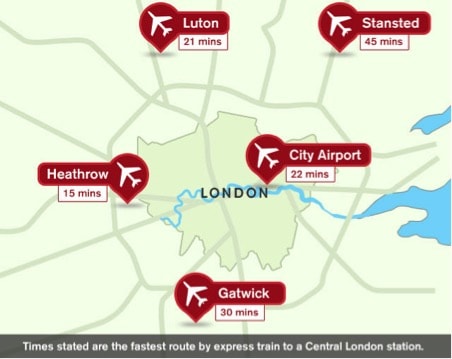 London is one of the largest cities in the world and, as such, has five commercial airports. All of the airports have good links to the city centre, however please note that some of the options (especially those which budget airlines fly to) are quite far from London.
Therefore if you are flying from Europe the travel time to London could in some cases be longer and more expensive than the flight itself, especially if you are not taking the premium express train to Central London.
It is very important that before you book your flight, you consider which part of London you are staying in, and try and arrive at the most convenient airport or station possible. We then recommend that in advance of your trip, you plan your journey from the airport or station to your accommodation, to avoid a potentially long and/or expensive journey once you arrive.
Therefore, for your convenience, we have compiled a list of the main airport hubs below, with detailed information on the best way to travel from the airport to your Home from Home accommodation in London.
Heathrow Airport
Heathrow is London's busiest airport and the third busiest airport in the world. Located just 14 miles west of Central London, there are a number of quick and easy methods to get from the airport to your accommodation.
By underground: Known locally as 'the tube', London's underground service is fast and efficient. Heathrow airport is located in zone 6 and is serviced by the following stations; Heathrow Terminals 1, 2, 3 (one station), Terminal 4 and Terminal 5. The journey time from Heathrow Central to Central London usually takes around 40–50 minutes with the trains leaving regularly, even at peak times. Tickets and 'Oyster Cards' can be purchased from the stations, at the airport, and with some airlines, on your flight prior to arrival. Travel Cards (one day, one week, one month) are often great value and can also be used on other TFL services such buses and trains as well as all underground lines.
By train: The fastest travel option from Heathrow is 'The Heathrow Express'. This is a train service between the airport and Paddington Station. The service runs every 15 minutes with the journey taking around 15 minutes. Paddington is a convenient station if you are staying in West London, however if you are staying in another part of London, you will probably find you have to use the underground service and it may have been quicker and cheaper to have just taken this from Heathrow. Tickets cost between £10 and £30 depending on how far in advance you are able to book. A full list of prices can be found here.
By taxi: If you have booked accommodation with us, we will of course be happy to assist you in booking an airport transfer. We use an experienced company who will send a driver to meet you upon arrival and take you directly to your accommodation. Full information on our transfer service can be found here. If you wish to arrange your own taxi or find one upon arrival, each Heathrow terminal has clearly signposted taxi ranks. For your own safety we recommend only taking a licensed or London (black) cabs.
Gatwick Airport
Gatwick is London and the UK's second busiest airport. It is located just 29 miles south of Central London, and although it is not serviced by an underground line, it is very well connected by over ground train and is probably the best airport to arrive to if your accommodation is located in South London.
By train: As with Heathrow, Gatwick Airport is serviced by an express train service 'The Gatwick Express'. Trains run every 15 minutes until around midnight and then run a reduced night service starting from approximately 03:30. The Journey to London Victoria takes around 35 minutes. Single tickets cost in the region of £20 from the ticket office and are slightly cheaper if booked online prior to arrival. Alternatively, the 'regular' non express services run by Connex South Central and Thameslink are much cheaper (you can use your Travel Card or Oyster), run four or five trains per hour (reduced night service) with the journey taking just 35 minutes.
By taxi: As with Heathrow, if you are not booking an airport transfer through us, we would recommend booking only licenced taxis/minicabs or official London 'Black Cabs'. Gatwick is further out of the city than Heathrow, so unless your accommodation is in South London, we would recommend taking a train to closer either to Victoria or Clapham Junction and taking a taxi from there.
Stansted Airport
Stansted airport is located approximately 35 miles to the North East of London in the county of Essex. Like Gatwick, Stansted is not actually in London, and is not on the underground network but is well connected by overground train. This is probably one of the best airports to use if your accommodation is in East or North East London. If your accommodation is not in this area, the transfer from the airport to the accommodation might take a while.
By train: As with the other airports, Stansted is serviced by an express train service. The airport railway station is situated below the terminal building, where it is possible to buy tickets on the day. The Stansted Express is a quick and efficient service with trains departing from London Liverpool Street Station every 15 or 30 minutes (depending on time of day) and with an approximate journey time of 45 minutes. Tickets cost between £20 and £40 (depending when and the category/class of ticket you book). Please note the Stansted Express does not offer a night service but many of the budget airlines that use Stansted airport have flights with late night arrivals. Please bear this in mind when booking your flight. The money you save on a cheap flight might well have to be spent on an expensive transfer if no other option is available.
By coach: The coach station is located below between Zone C and Zone D of the Short Stay Car Park. Tickets can be purchased from the coach ticket desk in the arrivals area in the terminal which is open from 06:00 until 21:30 or in the coach station which is open 24 hours per day.
By taxi: Stansted is located quite a way outside of London, therefore taking a taxi is a very expensive option. We would recommend using one of the transfer services to Central London and then taking a taxi from there. If you do take a taxi, as always we recommend either booking a transfer through us or taking only officially licenced taxis or minicabs.
Luton Airport
Luton airport is located approximately 30 miles north of London in the county of Bedfordshire. Luton is a smaller 'out of town' airport and is used by airlines such as EasyJet, Monarch, Ryanair and Thomson Airways. As with Stansted, if you are booking a flight to arrive with Luton, please ensure you allow extra time to travel to your accommodation within the check in times (beware of cheap flights with very late or early arrival times).
By train: There is a fast, frequent and direct service between central London and Luton Airport Parkway train station operated by Thameslink. Luton Airport Parkway is around 35 minutes away from King's Cross Station. The station is too far from the airport to walk, however there is a free Luton Airport Express shuttle bus from outside the airport terminal at Bay 1. The bus will take you to Luton Airport Parkway station in approximately 10 minutes. From here you can catch a Thameslink train (southbound) into Central London.
By coach: Green Line 757 run hourly coaches 24 hours a day, seven days a week, linking Luton Airport with Central London. The journey takes just over an hour with a single ticket costing around £10.
By taxi: As with Stansted, Luton is located quite far from London and we would not recommend using a taxi or airport transfer unless you are arriving late at night. Again, if you do use taxis please only use official licenced cabs.
London City Airport
London City Airport is located in the Royal Docks just 7 miles to the east of Central London, close to Canary Wharf. This airport is small when compared to the other airports serving London but it is the closest to the city and is very well connected.
The Docklands Light Railway: Commonly known as the DLR, this is an overground rail system that connects East London and is probably the most convenient way to travel from the airport using public transport. The airport is located in zone 3, with DLR trains leaving every 8 to 15 minutes. The DLR takes approximately 15 minutes to get from the airport to Stratford International (the closest major station).
By bus: The airport is serviced by regular London buses, therefore Oyster and travel passes are accepted. Bus numbers 473 and 474 connect the airport with Stratford International to the North and Woolwich to the South.
By taxi: London Black Cabs and minicabs are readily available from the airport. Information on our airport transfer service can be found here.
King's Cross St. Pancras
King's Cross St. Pancras is an international railway station located in the north of Central London. The station is walking distance from both the City of London and Westminster and is the London home of Eurostar trains coming into the city from continental Europe. As the station is situated close to Central London, it is very well connected by all forms of public transport. The station has numerous overground links, its own underground (tube station) connected to six lines Circle, Piccadilly, Hammersmith & City, Northern, Metropolitan and Victoria and numerous bus stops and taxi stands.