You're going to live in the UK for a while, and you would like to learn more about the British culture? Here is a list of the 8 most famous British novels you could read (or watch):
Pride & Prejudice by Jane Austen, 1813
Story: This tale of love and values unfolds in the class-conscious England of the late 18th century. The five Bennet sisters – including strong-willed Elizabeth and young Lydia – have been raised by their mother with one purpose in life: finding a husband. When a wealthy bachelor takes up residence in a nearby mansion, the Bennets are abuzz. Amongst the man's sophisticated circle of friends, surely there will be no shortage of suitors for the Bennet sisters. But when Elizabeth meets up with the handsome and – it would seem – snobbish Mr. Darcy, the battle of the sexes is joined.
Or the movie: https://www.youtube.com/watch?v=fJA27Jujzq4
Jane Eyre by Charlotte Brontë, 1847
Story: The novel follows the story of Jane, a seemingly plain and simple girl as she battles through life's struggles. Jane has many obstacles in her life – her cruel and abusive Aunt Reed, the grim conditions at Lowood school, her love for Rochester and Rochester's marriage to Bertha. However, Jane overcomes these obstacles through her determination, sharp wit and courage.
Or the movie: https://www.youtube.com/watch?v=s1vSb318d74
The Hobbit by J.R.R Tolkien, 1937
Story: Hobbits characteristically value peace, simplicity, and cozy homes yet are capable of incredible feats of courage and resourcefulness. The unwilling hero of The Hobbit, Bilbo Baggins, is persuaded to join Thorin and his 12 dwarfs to recover their stolen treasure, which is being guarded by the dragon Smaug. During the expedition, Bilbo finds a magical ring that renders the wearer invisible, which figures prominently in The Lord of the Rings. The Hobbit is the story of Bilbo's maturing from a seeker of warmth and comforts to a fighter, however humble, for the greater good.
Or the movie: https://www.youtube.com/watch?v=85gVFD7Dqwk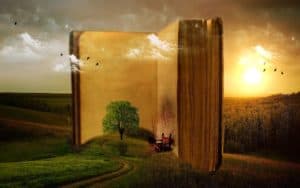 Wuthering Heights by Emily Brontë, 1847
Story: The story takes place in a remote Yorkshire district at the end of the 18th century. Embittered by abuse and by the marriage of Cathy Earnshaw—who shares his stormy nature and whom he loves—to the gentle and prosperous Edgar Linton, Heathcliff plans a revenge on both families, extending into the second generation. Cathy's death in childbirth fails to set him free from his love-hate relationship with her, and the obsessive haunting persists until his death.
Or the movie: https://www.youtube.com/watch?v=kUWOCd894-Q
Great Expectations by Charles Dickens, 1861
Story: The narrator, Pip recounts his life story from his childhood to how he matures and grows up to becoming a young man. Throughout this transformation, one thing remains unchanged. Pip falls in love with a wealthy but heartless girl named Estella. Pip receives a fortune from a secret benefactor to pursue an education and he does this along with obtaining wealth, success and high social class in the hopes of becoming worthy in the eyes of his beloved Estella.
Or the movie: https://www.youtube.com/watch?v=ZlR1ll0exBg
Frankenstein by Mary Shelley, 1818
Story: Frankenstein tells the story of gifted scientist Victor Frankenstein who succeeds in giving life to a being of his own creation. However, this is not the perfect specimen he imagines that it will be, but rather a hideous creature who is rejected by Victor and mankind in general. The Monster seeks its revenge through murder and terror.
Or the movie: https://www.youtube.com/watch?v=7pxZxY_Siyc
Vanity Fair by William Makepeace, 1848
Story: The novel deals mainly with the interwoven fortunes of two women, the wellborn, passive Amelia Sedley and the ambitious, essentially amoral Becky Sharp. Amelia marries George Osborne, but George, just before he is killed at the Battle of Waterloo, is ready to desert his young wife for Becky, who has fought her way up through society to marriage with Rawdon Crawley, a young officer from an aristocratic family.
Or the movie: https://www.youtube.com/watch?v=JuRRjNRv-rM

The Hound of the Baskerville by Sir Arthur Conan Doyle, 1902
Story: Sherlock Holmes and his friend is invited by a Henry Baskerville to his ancestral home at Dartmoor for investigating the mysterious death of his uncle Charles and to help him escape a doomed legacy that has been in his family for years. The legend of one of his ancestors being torn apart by a gigantic hound more than a century ago comes back to haunt him as yet again the rumours of a monstrous creature run wild in the moor region.
Or the movie: https://www.youtube.com/watch?v=40G5B_0J07M
Enjoy your readings!
Sources: http://www.bbc.com/culture/story/20151204-the-25-greatest-british-novels
https://theculturetrip.com/europe/united-kingdom/articles/the-10-greatest-classic-british-novelists/
We are London Homestays, an independent provider of student accommodation and English language tuition based in London, UK. Contact us if you're a student, trainee or intern and we will help you find a homestay or residence in London!
You're going to live in the UK for a while, and you would like to learn more about the British culture?
Here is a list of the 8 most famous British novels you could read (or watch)! @londonhomestays #London #culture #famousnovels #studyinlondonhttps://t.co/AgFgSgDSrf

— London Homestays (@londonhomestays) July 9, 2018