The summer is almost over, the autumn is coming. But there are still festivals you can join here in London.
London Design Festival
If you're interested in art and design: on Saturday will start the London Design Festival! It promotes and celebrates London as the design capital of the world. There will be hundreds of installations, exhibitions and events across London until 23th of September. In addition to it, the V&A celebrates 10 years as the festival's hub with special activities and programmes.
The Kellenberger-White series of alphabet chairs in Finsbury Avenue Square will be one of the highlights. You can move the letters there and create words with them. Each 26 letter chairs are in different colours, like the International Orange which were used for San Francisco's Golden Gate Bridge.
If you go to Trafalgar Square you will see another highlight by the four monumental lions surround the square. Instead of hearing a roar from them, the public can see LEDs embedded within their mouths. So in the lion's mouths will be shown some words or poetry's which are chosen by the public. Artist and designer Es Devlin have designed this installation calls 'Please Feed the Lions' with Google Arts.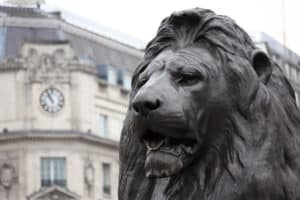 Entertainment

If you like listing podcasts, this weekend is the London Podcast Festival. You can listen there to some of the best British and international podcasts. There are a series of workshops and discussions targeted at podcasters you can join. To make sure you can join it, you should book tickets in advance for it (there are various prices). The Festival is at Kings Palace which  is close to the King's Cross tube station and also to our King's Cross Residence there.
The Greenwich Comedy Festival celebrates its 10 anniversary in the National Maritime Museum in Royal Greenwich until Sunday. Thousands go there to watch the best comedians perform in a series of shows in sublime surroundings with bars, street-food, music and so much more.
A lovely weekend to everyone!
We are London Homestays, an independent provider of student accommodation and English language tuition based in London, UK. In 2015, we received the British Council's Accreditation as an accommodation agency. Contact us if you're a student, trainee or intern and we will help you find a homestay or residence in London!