No Plans for the Weekend? Here you can get some inspiration!
Soon it's Halloween! Therefore we have a little Halloween special for you, the big one comes next week.
Museums at night
Museums, galleries, libraries, archives and historic houses open their doors tonight especially for you! With everything from special tours to one-off exhibitions, Tudor treasure hunts and live music, the Museums at Night event makes your visit even more unique. If you have no time tonight, don't worry as it runs till Saturday night, so there's still time left for you to be a part of this amazing event. 
Also, the museums at night offer you a Halloween special. If you like it spook-tacular, there's a ghost tour in the National Justice museum. There you can follow the ways from arrested people, murders and much more. It helps you also for practical understanding of the law & justice system. There are four tours two on the 26th of October and two on the 27th of October.
The tours are for one hour, 18.00-19.00 and 19.00-20.00.
The entry fee is £ 10.95, for students £ 9.95.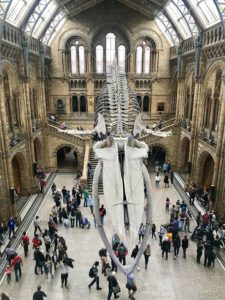 ScreamFest at London Dungeons
The House of Halloween got even scarier for Halloween with ScreamFest. You can meet London's scariest characters like Jack the Ripper, the serial killer who was never caught, and the fictional 'Sweeney Todd'. They promise it'll be sold out soon, so hurry and pre-book your ticket online to guarantee your entry.
Crepe City
All trainers addicts listen this Saturday 'Crepe City' hits the city. It's a footwear, fashion and lifestyle festival. It's Europe's biggest sneaker festival, a big sneaker's heaven. You can find there from cheap one to limited edition piece almost everything. Enjoy the live music and also the street food there. The doors open from 11am-6pm at Old Truman Brewery, London, E1 (Liverpool Station) and the entry is £10 on the door. It's also just a few minutes' walk away from our brand new Liverpool Street residence.
The BFI London Film Festival which we recommend to you last week will run till Sunday so don't forget to take your chance to join it.
A lovely weekend to everyone!
We are London Homestays, an independent provider of student accommodation and English language tuition in London, UK. In 2015, we received the British Council's Accreditation as an accommodation agency. Contact us if you're a student, trainee or intern and we will help you find a homestay or residence in London!