Shepherd's Bush, Chiswick and Ealing Overview
The areas of Shepherd's Bush, Chiswick and Ealing have long been an under-the-radar popular spot for families and working professionals, this is thanks to the attractive combination of quality properties, good schools and amazing transport links. It is also one of the most culturally diverse areas of London, with 100+ languages spoken and having large, Irish, Polish and South Asian communities.
Travel information
Shepherd's Bush, Chiswick and Ealing are extremely well served when it comes to public transport. They have several London Underground stations, including Ealing Broadway, Shepherd's Bush and Chiswick Park. These can take you to location such as Victoria, Oxford Circus and Kensington.
There are also many bus routes that cover this area, some of these includes the numbers 31, 65 and 207 which can take you to places such as Camden Town, Kingston and White City.
History
The name Shepherd's Bush is believed to have come from the use of the common land in the area which was used as a resting point for shepherds when travelling to Smithfield Market in London. Others believe that the name could have derived from the name of somebody who lived in the area, because in the mid 1600's the area was recorded as "Sheppard's Bush Green".
Chiswick's name was first recorded in the year 1000 in Old English as Ceswican meaning "Cheese Farm". It is thought that the riverside area of Duke's Meadows supported an annual cheese fair which took place up until the 1700's.
The name Ealing was first called 'Gillingas' in the year 700, this comes from Old English, meaning 'place of the people associated with Gilla'. Over the centuries, the name has changed, and has been known as 'Illing', 1130; 'Gilling', 1243; and 'Ylling', 1254, until 'Ealing' became the standard spelling in the 1800's.
Local attractions
From shopping to watching football, no matter who you are, you will find something that you love to do!
Shepherd's Bush Market
For over 100 years, Shepherd's Bush market has been one of the most famous markets in all of London, making it in a key attraction in the West London community. This is because the market is an authentic, multicultural and packed full of products from around the world, from spices to fresh fruit and vegetables. In true market-style, the hot-spot also has stalls selling truly unique finds, from vibrant prints and home furnishings to vinyls and electronic equipment.
The Musical Museum
The Musical Museum has one of the world's notable collection of self-playing instruments. From the smallest of clockwork music boxes to the Mighty Wurlitzer, this collection holds an amazing array of devices including orchestrions, pipe organs, reproducing pianos and violin players.
If you'd like to visit, click here for more information
Queens Park Rangers F.C. – Loftus Road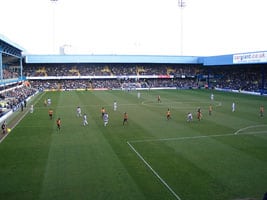 Would you love to go see some professional football? Well if you are in or around Shepherd's Bush, Loftus Road, home to Queens Park Rangers F.C. is the place to be.
Click here for ticket information
Northala Fields
Northala Fields is an award-winning country-style park based in Northolt in the London Borough of Ealing. It opened in 2008 and is one of the most exciting and significant parks in London. Northala Fields is the economic and environmental viability of turning waste from the original Wembley Stadium and the new White City shopping centre into a new park turning materials into new habitats for wildlife and a range of recreational facilities.
Northala Fields consists of four artificial hills standing next to the A40 Western Avenue which helps decrease visual and noise pollution and provide a unique landmark for the park and the borough. In particular, the viewpoint on top of the tallest mound (22 metres), provides a 360-degree panoramic view of the surrounding area including central London and Canary Wharf.
Water also plays an amazing part in what makes this park great. It has a network of 6 interconnecting fishing lakes, a model boating lake and wildlife ponds, streams and wetlands.
For more information click here
Accommodation in Shepherd's Bush, Chiswick or Ealing
If you are interested in booking a homestay in Shepherd's Bush, Chiswick or Ealing (Zone 3), click here to apply.