Sherlock Holmes is one of the most famous icon of the British culture, the world's first and only "consulting detective". But what do you really know about him and his creator?
Who is Sherlock Holmes?

He is the fictional but brilliant detective created by Arthur Conan Doyle in 1887, created for the novel A Study In Scarlet, published in Beeton's Christmas Annual.
Sherlock Holmes has essentially an obsessive personality. He works compulsively on all his cases and his deductive powers are phenomenal. He can get engulfed in periods of depression between cases and is known to take cocaine when he cannot stand the lack of activity. He has an in depth knowledge of music and plays on a Stradivarius that he bought for a song in Tottenham. He is also known to run chemistry experiments in his spare time to the dismay of both Dr. Watson and his landlady Mrs. Hudson.
Who is he inspired of?
It is commonly agreed that the character traits of Sherlock Holmes were inspired by Dr. Joseph Bell, one of the teachers at the medical school of Edinburgh University. In particular, Holmes's uncanny ability to gather evidence based upon his honed skills of observation and deductive reasoning paralleled Bell's method of diagnosing a patient's disease. 
This is how Conan Doyle described Dr Bell: A "thin wiry, dark" man, "with a high-nosed acute face, penetrating grey eyes, and angular shoulders." Dr. Bell "would sit in his receiving room with a face like a Red Indian, and diagnose the people as they came in, before they even opened their mouths. He would tell them details of their past life; and hardly would he ever make a mistake".
Who is his creator, Sir Arthur Conan Doyle?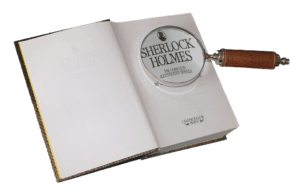 Arthur Ignatius Conan Doyle (1859-1930) was born in Edinburgh, Scotland, in a prosperous Irish-Catholic family. Family tradition would have dictated the pursuit of an artistic career, yet Arthur decided to follow a medical one.  He worked as a surgeon on a whaling boat and also as a medical officer on a steamer travelling between Liverpool and West Africa. He then settled in Portsmouth on the English south coast and divided his time between medicine and writing.
In 1887, his first novel was published in Beeton's Christmas Annual, under the title A Study in Scarlet which introduced us to the immortal Sherlock Holmes and Dr. Watson.  In 1893, to Doyle's readers' disdain, he had attempted to kill off Sherlock Holmes in order to focus more on writing about Spiritualism. In 1901, however, Doyle reintroduced Sherlock Holmes in The Hound of Baskervilles and later brought him back to life in The Adventure of the Empty House so the lucrative character could earn Doyle the money to fund his missionary work.
Having been diagnosed with Angina Pectoris, Doyle stubbornly ignored his doctor's warnings, and in the fall of 1929, embarked on a spiritualism tour through the Netherlands, before coming back home and dying the following year.
What are the books and movies about him? 
Overall, Sherlock Holmes was featured in 4 novels, 56 short stories and countless movies.
SHERLOCK HOLMES NOVELS:
SOME OF SHERLOCK HOLMES MOVIES:
One of the best TV shows I saw about him is the BBC's one with Benedict Cumberbatch and Martin Freeman:  https://www.bbc.co.uk/programmes/b018ttws
"My name is Sherlock Holmes. It is my business to know what other people don't know." The Blue Carbuncle
Source: http://www.arthurconandoyle.com/sherlockholmes.html
We are London Homestays, an independent provider of student accommodation and English language tuition based in London, UK. Contact us if you're a student, trainee or intern and we will help you find a homestay or residence in London!