If I say "The Circle of Life", you know straightaway what I'm talking about right? Otherwise you need to go over your Disney's movies again… I'm obviously talking about The Lion King!
– Production: The Lion King was produced by Disney in 1994, with the music by Elton John, lyrics by Tim Rice and book by Roger Allers & Irene Mecchi. The first show took place in 1997 in Minnesota and was the beginning of a long road of success for this show. In 2014, The Lion King became the top-earning title in box-office history for both stage productions and films.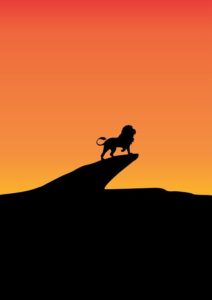 – Story (for the few who don't already know it): the story is about of Simba, a young lion who is to succeed his father, Mufasa, as King of the Pride Lands. However, Simba's uncle Scar wants to become King thus murders his brother Mufasa and manipulate Simba into thinking he was responsible, making him flee into exile. After a few years living with Timon and Pumbaa, Simba finally returns home after having encountered his childhood friend Nala, so as to challenge his uncle and take his place as the rightful King.
– Differences with the film: Several new scenes are present, including a conversation between Mufasa and Zazu about Mufasa's parenting and a risky scene in which Timon finds himself nearly drowning in a waterfall while Simba feels powerless to help him. Another addition is about Nala and King Scar's wanting to make her his mate.
– Famous songs:
Circle of Life – Rafiki & Co
The Morning Report – Zazu, Simba & Mufasa
I just Can't Wait to Be King – Simba, Nala & Zazu
They Live in You – Mufasa & Co
Hakuna Matata – Timon, Pumbaa, Simba
Can You Feel the Love Tonight – Timon, Pumbaa, Simba, Nala
– My experience: I was really curious to see how the Lion King would be as a show, and I have not been disappointed by the Lyceum Theatre's representation! The songs and dancing were perfect, the setting and accessories really creative and beautiful, and it was surprisingly faithful to the Disney movie. All the actors were so great and the theatre stunning! I completely loved it!
You can find tickets for the show in London here: https://www.thelyceumtheatre.com/tickets
⇒ If you're staying at our Bloomsburry residence, you are just a few stations away from the show!
 So don't hesitate and go see this amazing show!
If I say "The Circle of Life", you know straightaway what I'm talking about right? Otherwise you need to go over your Disney's movies again… @londonhomestays #London #lyceumtheatre #lionking #studyinlondonhttps://t.co/QLgiirY4ga

— London Homestays (@londonhomestays) July 3, 2018