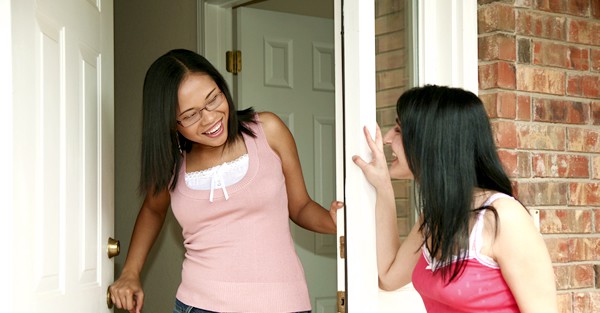 It's a busy Saturday or Sunday, you have lot on, and your student has just arrived after a long flight. It is tempting to just introduce the student to your family and show them to their room. That way they can rest up, and you can get on with your day. However, we would always advise on a 'formal' check in and check out. A quick 5-10 minutes spent with the student upon arrival, just going through a few of the house rules, the workings of the house e.g. shower times, morning breakfast routines, evening meal times and the exchanging of mobile numbers, can really help the stay run smoothly for both your guest and for yourself. The students staying with you are arriving from a different culture, and may be used to completely different daily routines or house rules. For example, students from warmer countries may be used to taking two or more showers per day or leaving the heating on overnight when the weather is cold.
The same applies for departures, 10 minutes spent at the end of the student's stay can avoid issues after they leave. The most common phone call we receive after departure is "my student was lovely, however they left in a rush and I forgot to get the key from them" or "they have left without their phone charger, do you have a follow on address?". It is much easier to do a proper check out either on the morning of departure or the night before, than trying to track down a key which has been mistakenly taken to Brazil or Japan. 🙂
Top tips for check-ins
Go over how the house works.
Not just house rules but also timings (bathroom, dinner times etc) etiquette, what the student can and cannot use (e.g. towels okay,toiletries not etc). Try and keep the explanations clear and simple, remembering English is not the student's native language. It is also important to keep things as light as possible and include positives, so it does not seem like you are just laying down rules. For example, you might want to explain they are welcome to make tea/coffee whenever they like or that they are welcome to sit in the garden if the weather is nice.
Exchange contact details. Most students arrive with a mobile phone of some sort, even if it has an international number, please take their number,along with email addresses and home contact details. Apps like 'Whatsapp' or 'Line' are great for communicating short SMS style messages, they usually cost nothing or just the cost of the app and can be used for international numbers. Students often pick up a UK sim card a few days after arrival as well, so please ensure when they do, that you exchange numbers
Go over home security. Many of the students are from quiet, safe villages and this might be their first trip to a 'big city'. Therefore attitudes towards home security may be very different to those of us who have lived in London for years. Spending just a couple of minutes going over everything from shutting of windows before leaving in the morning to alarm codes,to keeping house keys safe, can help avoid any misunderstandings later.
Explain the local area and how to get to the stations. Imagine you have just arrived in Rome, Rio or Tokyo and knew nothing about the area or the transport system. Everything is probably very new and very different for the student, so any information is usually greatly appreciated. Contrary from when you have had friends stay previously and a simple "the station is at the bottom of the road", these students are starting from scratch. Everything form Oyster cards to night buses, to rail replacement bus services will be new to the student. Please don't feel like you are boring or patronising them by passing on your knowledge or by talking about train/bus time tables – any local information or tips you can pass on can make the difference between getting lost or not, or making it to school on time on their first day.
Explain that they should not use your home address without speaking to you first. During the booking process, we make it clear to the students that they should not use your home address (i.e. for opening any type of account) without asking your permission first, but we strongly recommend you mention this to them when they first arrive just to make sure they fully understand.
Top tips for check-outs
Make sure you get the key back! This is by far the most common issue we are asked to help with. The student is either leaving early or after the host has left for work, they are in a rush and completely forget to take the house key off of their key ring. Before they know it, the key has flown 10,000 miles across the world and the host does not have a key to give to the new student arriving shortly. Having 'the key exchange' on your check out check list can help avoid this.
Exchange home contact details. If this wasn't done on arrival or the information has been placed in a draw under some take-away menus, now is the time to take email addresses etc. It makes tracking down that lost key or even saying Merry Christmas a lot easier.
Check for damage. Maybe the toughest or most unpleasant part of the check out but it is still worth doing. If something has been damaged, the student is much more likely to offer to replace it or contribute to the repairs while they are still with you. Please remember we do not have any power to demand payments from students for repairs, we can only ask them. If we are asking from the other side of the world, this is made even more difficult and will most likely result in failure and a call to your home insurers.
Find out where the student is going next. They might not be returning home for a while, they might be moving to a flat share with friends or travelling within the UK or Europe. That UK mobile number you have might still come in handy for a while yet.