No plans for the weekend? Here are some ideas for you!
It's already the end of October, time is going so fast! You all know what this means –  it's Halloween time! Here is the Halloween special we promised you last week!
Horroctober
Prince Charles Cinema at Leicester Square presents you Horroctober. Buy one ticket and you can watch 5 or even 6 movies for the price of £20. This ultimate movie marathon is especially made for Halloween.
When you prefer the old horror movies try the 'Dario Argento All Nighter' on Friday evening (11:30pm-10am). They show you films like 'The Bird With The Crystal Plumage' (1970) and other films from 1970 until 1985.
What's that? You don't like the old horror movies? Well, the 'Modern Horror Night' could be for you! It's being held on Saturday (9:15pm-8: 25 am), with movies like 'Get Out' (2017) or the brand new 'A Quiet Place' (2018). Please make sure you arrive before midnight because there is no admission to the cinema after this time. 
London Ghost Walks
The London Ghost Walks are led by Richard Jones who wrote 22 books on the ghosts of London and all the supernatural things around it. He has been walking around the city on tours since 1982, making him London's longest-running ghost walks guide. Because of his years of experience, his performance is made with a really realistic air and it will probably make you shudder! Additionally, he is always up to date with what has been happening recently in London. So he knows all the places ghosts have been seen and where to take you to make this experience as real as possible.
Haunted Hip-Hop
Head to Camden Assembly if you don't like to dress up for Halloween! It's not necessary to wear a costume there but you can still wear one if you want. This venue is definitely one of the best opportunities for you and your friends if you can't decide to dress up or not. Because it's totally up to you what you prefer to wear there. They playing rap, trap and R&B. So they playing all your favourite bangers from the likes of Kendrick Lamar, Post Malone to Cardi B or Wu-Tang Clan. The venue will be decked out with pumpkins and other spooky decoration. The best part about it? The entry is only £4!
This is definitely also the best party for our students living in the Camden residence or even the Camden Lock residence.
Cargo



Cargo, the heart of Shoreditch offers you a Halloween-weekend with three consecutive parties from Friday until Sunday! For tonight's 'Twisted Carnivale' party there will be a dress code: 'twisted circus' and 'a nightmare before Christmas'. For 'Sinful Saturday' you don't have to be dressed up but there will be a costume competition. So take your chance to wear your fanciest costumes! On Saturday they have also confetti cannons, great fun right? The last entry is strictly before 10 pm so make sure you arrive in plenty of time! Cargo is just a short walk from Old Street and Shoreditch Highstreet station and also from our Liverpool Street residence.
You don't like to party all night? Then you can go to the Halloween Day Party on Sunday. There you can chill out from 2 pm until 12 am. The entry is free until 4 pm, after this you will need to pay £10.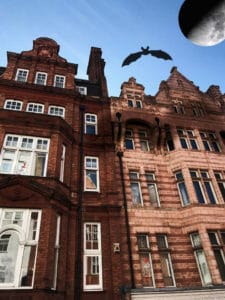 A lovely spooky weekend to everyone!
We are London Homestays, an independent provider of student accommodation and English language tuition in London, UK. In 2015, we received the British Council's Accreditation as an accommodation agency. Contact us if you're a student, trainee or intern and we will help you find a homestay or residence in London!