Wembley Overview
Wembley is a residential area of London with an energetic entertainment quarter, making it one of the capital's brightest and most vibrant areas.
The area has something for everyone, from multi-screened cinemas to an array of brand name designer shops, restaurants, bars and lounges. And if you want to get some peace and quiet, you can also find a number of parks to relax in!
Travel information
Wembley is served by a number of National Rail, London Underground and Overground stations, some of these include Wembley Central, Wembley Park and Sudbury Town which can take you to locations such as Waterloo, Baker Street and Leicester Square.
There is also a number of buses that serve the area, these include the bus route numbers 206, 223 and 297 which take you to places such as Kilburn Park, Wembley Stadium and Ealing Broadway.
History
Wembley's name comes from the Old English name "Wemba" and the Old English "lea" for meadow or clearing. The name was first mentioned in the charter of 825 of Selvin. A further instance may be seen in the Plea Rolls of the Common Pleas, as Wambeleye.
The village of Wembley grew up on the hill by the clearing with the Harrow Road south of it. A lot of the surrounding area remained wooded. In 1547 there were but six houses in Wembley. Though small, it was one of the wealthiest parts of Harrow. At the dissolution of the monasteries in 1543, the manor of Wembley fell to Richard Andrews and Leonard Chamberlain, who sold it to Richard Page, Esq., of Harrow on the Hill, the same year.
There was a mill on Wembley Hill by 1673. In 1837, the London and Birmingham Railway (now part of the West Coast Main Line) was opened from London Euston through Wembley to Hemel Hempstead, and completed to Birmingham Curzon Street the following year. The changing names of the local station demonstrated the increasing importance of the 'Wembley' name. 'Sudbury' station opened in 1845, renamed as 'Sudbury and Wembley' in 1882, renamed as 'Wembley for Sudbury' in 1910, renamed as 'Wembley Central' in 1948, at the time of the Olympic Games.
Before the modern Wembley stadium with the arch existed, there once stood the old Wembley Stadium aka Empire Stadium known for having the Twin Towers which was an iconic symbol of English football. The stadium held numerous sporting events from 1923-2000, including numerous events in the 1948 Summer Olympics, a Heavyweight boxing match between Henry Cooper and Muhammad Ali and the 1966 FIFA World Cup Final where England beat West Germany 4-2 to win the tournament!
The old Wembley stadium was then demolished in 2002-03 and was replaced with the new Wembley Stadium which opened in 2007. The new stadium has already hosted a number of great sporting events and will continue to do so for many years to come!
Local attractions
Wembley is filled with so many activities to do, from watching the football or going to a concert at Wembley Stadium to axe throwing at an urban axe throwing club, you will never be bored here!
Wembley Stadium
If you want to see some of the best sporting events as well as other amazing shows, you need to check out Wembley Stadium! It is one of the most iconic stadiums in the world as well home to the England national football team!
For more information, click here
Bad Axe Throwing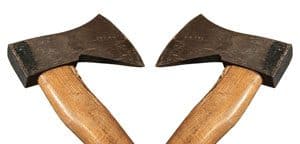 Do you want to test your strength and aim? Then you should check out Bad Axe Throwing, the world's biggest urban axe throwing club which brings the thrill of a traditional Canadian backyard pastime to urban communities.
For more information, click here
Wembley Sunday Market
In Wembley, you will find the largest Sunday market in all of England! There are over 500 stalls selling everything from fresh food and household items, to toys, electrical goods and all the latest fashion wear. There is a fantastic food court area, with delights from around the world. A great atmosphere with all the hustle and bustle of a traditional British market. Grab yourself a bargain!
King Edward VII Park
If you want a place to either relax or get some exercise by playing some sport such as Football, Gaelic Football, Tennis, then the King Edward VII Park is one of the places to be!
For more information, click here
Accommodation in Wembley
If you are interested in booking a homestay in Wembley (Zone 4+), click here to apply.