Stirling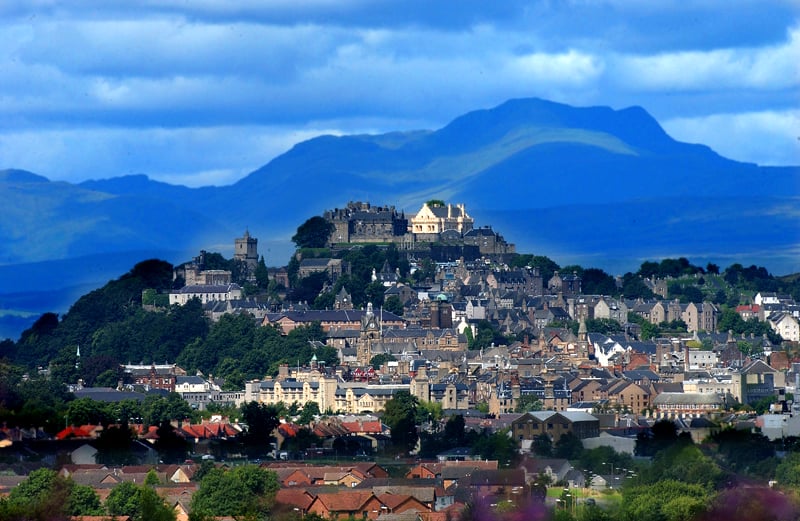 Stirling is a city in central Scotland. The city was built around a large fortress and medieval old town.
Top of the Town consists of Broad Street, Castle Wynd, Ballengeich Pass, Lower Castle Hill Road, Darnley Street, Baker Street and St Mary's Wynd. These streets all lead up to Stirling Castle and are very popular with tourists who stop off at the Old Town Jail, Mar's Wark, Argyll's Lodging and the castle. Ballengeich Pass leads to the graveyard at Ballengeich. The Top of the Town from Broad Street upwards is renowned for its cobble-stoned roads. Craft shops and tourist-focused shops line the streets on the way up and once at the top, panoramic views are available across Stirling and beyond.
Stirling Castle is one of the largest and most important castles, both historically and architecturally, in Scotland. The castle sits at the top of Castle Hill. Most of the buildings within and around the castle date from the fifteenth and sixteenth centuries. Stirling Castle is a Scheduled Ancient Monument, and is now a major tourist attraction.
Transport

Rail
There are railway links to Bridge of Allan, Dunblane, and Alloa.
Buses
Public transport to districts within the city and to the surrounding towns are almost completely provided by buses operated by FirstGroup.
Rates for Stirling
Prices are per night. Please note the below is a guide, please contact us for the full rates and list of supplements.
High season is 1 February to 31 July and 1 September to 31 October.
Low season is 1 to 31 January, 1 to 31 August and 1 November to 31 December.