Lancaster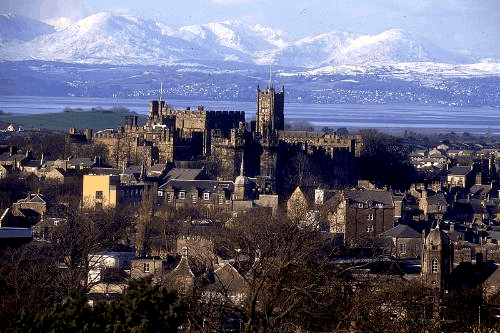 Lancaster is the county town of Lancashire in the North West of England.
Lancaster offers a high level of contemporary cultural activity. The city has retained many fine examples of Georgian architecture. Lancaster Castle, the Priory Church of St. Mary and the Edwardian Ashton Memorial are among many sites of historical importance.
The Lancaster Grand Theatre and the Dukes are two of the city's most notable venues for live performances as well as the Yorkshire House.
The university hosts public performances of theatre, music, exhibitions, contemporary dance and live art from UK and international companies. The university venues include the Nuffield Theatre, the Peter Scott Gallery, holding the most significant collection of Royal Lancastrian ceramics in Britain, and finally the Lancaster International Concerts series attracting nationally and internationally renowned classical and world-music artists.
The Storey Gallery is a contemporary art gallery showing work by international artists.
Lancaster also offers numerous museums, including Lancaster City Museum, Maritime Museum and Judges' Lodgings Museum.
Cinemas in Lancaster are the independent Dukes Theatre and the mainstream VUE multiplex in the city centre.
Every November the city hosts one of the biggest fireworks displays in the north west.
Transport

Rail
Lancaster is served by the West Coast Main Line which runs through Lancaster railway station. There are through train services to and from London, Glasgow, Edinburgh, Manchester, Leeds and Barrow-in-Furness as well as a local service to Morecambe.
Buses
The bus routes have services from Lancaster Bus Station to Lancaster and Morecambe as well as frequent services in Lancashire, Cumbria, Greater Manchester and services throughout the North West of England.