Bristol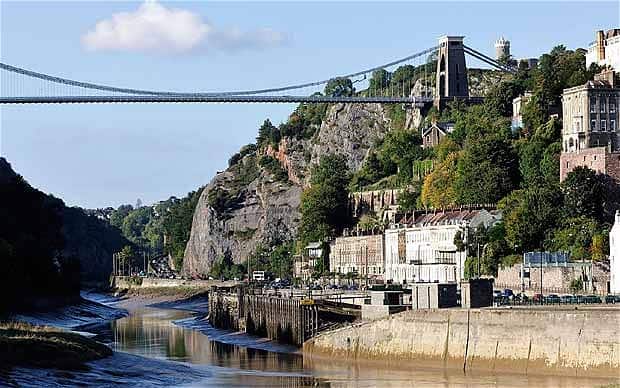 Bristol is a city in South West England. The city borders the counties of Somerset and Gloucestershire, with the historic cities of Bath and Gloucester to the south-east and north-east, respectively.
Bristol has a thriving current and historical arts scene.
The Bristol Old Vic occupies the Theatre Royal on King Street; the New Vic, and a foyer and bar in the adjacent Coopers' Hall. It is the oldest continuously operating theatre in England.
Other smaller theatres include the Tobacco Factory, QEH, the Redgrave Theatre at Clifton College and the Alma Tavern.
The city has many venues for live music including; Colston Hall, the Bristol Academy, The Fleece, The Croft, the Exchange, Fiddlers, the Victoria Rooms, Trinity Centre, St George's Bristol and several pubs, from the jazz-oriented The Old Duke to rock at the Fleece and Firkin and indie bands at the Louisiana.
The Bristol City Museum and Art Gallery houses a exhibitions encompassing natural history, archaeology, local glassware, Chinese ceramics and art. The M Shed museum opened in 2011 on the site of the former Bristol Industrial Museum.
The graffiti artist Banksy is believed to be from Bristol, and many of his works are on display in the city.
The Watershed Media Centre and Arnolfini gallery exhibit contemporary art, photography and cinema.
Bristol has 51 Grade I, 500 Grade II and over 3,800 Grade III listed buildings in a variety of architectural styles, from medieval to modern.
St James' Priory was founded in 1129 as a Benedictine priory.
Bristol Cathedral and its associated Great Gatehouse  were Founded in 1140, the church became the seat of the bishop and cathedral of the new Diocese of Bristol in 1542.
The 12th century St Mary Redcliffe which is the tallest building in Bristol. The church was described by Queen Elizabeth I as "the fairest, goodliest, and most famous parish church in England."
The Red Lodge was built in 1580. It was subsequently added to in Georgian times and restored in the early 20th century.
St Bartholomew's Hospital is a 12th-century town house which was incorporated into a monastery hospital, and became Bristol Grammar School from 1532 to 1767, and then Queen Elizabeth's Hospital 1767–1847.
St Nicholas's Almshouses were built in 1652 to provide care for the poor. Several public houses were also built in this period, including the Llandoger Trow on King Street and the Hatchet Inn.
Manor houses include Goldney Hall, where the highly decorated Grotto dates from 1739.
.
Transport
Rail
Bristol has two railway stations. Bristol Temple Meads (near the city centre) which provides high-speed trains to London Paddington station and local, regional and CrossCountry trains. Bristol Parkway, north of the city centre, has high-speed First Great Western service to Swansea, Cardiff Central and London Paddington and CrossCountry service to Birmingham and the North East. Limited service to London Waterloo via Clapham Junction from Bristol Temple Meads is operated by South West Trains.
Buses
There are scheduled coach links to most major UK cities