York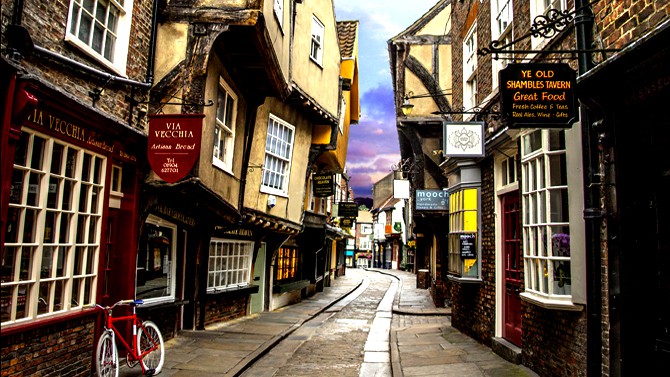 York is a historic walled city in North Yorkshire, England, Located 21 miles (34 km) from Leeds. York Minster, the largest Gothic cathedral in Northern Europe, dominates the city. York Castle in the city of York, England, is a fortified complex comprising, over the last nine centuries, a sequence of castles, prisons, law courts and other buildings. York Castle was used as a jail and prison until 1929. Now York Castle is open to the public and serve as the York Castle Museum and the Crown Court.
York's centre is enclosed by the city's medieval walls. These defences are the most complete in England. They incorporate part of the walls of the Roman fortress and some Norman and medieval work. The entire circuit is approximately 2.5 miles (4 km). A feature of central York is the Snickelways, narrow pedestrian routes, many of which led towards the former market-places in Pavement and St Sampson's Square. The Shambles is a narrow medieval street, lined with shops, boutiques and tea rooms.
York contains many museums and historic buildings such as the Yorkshire Museum and its Museum Gardens, JORVIK Viking Centre, the York Art Gallery, the Richard III Museum, the Merchant Adventurers' Hall, the reconstructed medieval house Barley Hall, the 18th century Fairfax House, the Mansion House, and the Treasurer's House.
York is noted for its numerous churches and pubs. Most of the remaining churches in York are from the medieval period. St William's College behind the Minster, and Bedern Hall, off Goodram gate, are former dwelling places of the canons of the Minster.
Transport
Rail
York railway station is a principal stop on the East Coast Main Line from London to Newcastle and Edinburgh. It takes less than two hours to get to York from London by rail. The station is also served by long distance trains on Cross Country services linking Edinburgh and Newcastle with destinations in south and west England via Birmingham.
Trans Pennine Express provide a frequent service of trains linking York to Newcastle, Scarborough, Leeds, Manchester, Manchester Airport, and Liverpool. Local stopping services by Northern Rail connect York to Bridlington, Harrogate, Hull, Leeds, Sheffield and many intermediate points, as well as many other stations across Greater Manchester and Lancashire.
Buses
First York operates the majority of the city's local bus services, as well as the York park and ride services.
Rates for York
Prices are per night. Please note the below is a guide, please contact us for the full rates and list of supplements.
High season is 1 February to 31 July and 1 September to 31 October.
Low season is 1 to 31 January, 1 to 31 August and 1 November to 31 December.