Weymouth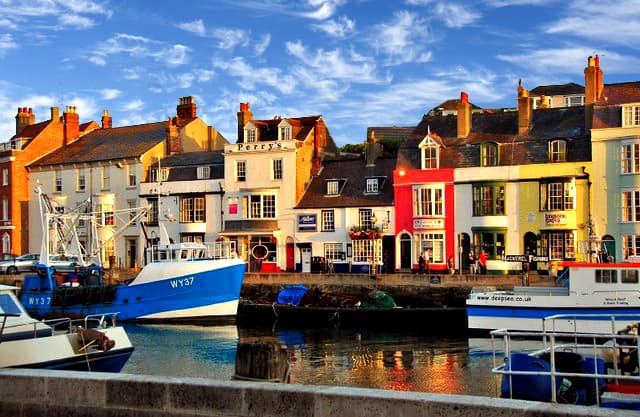 Weymouth is a seaside town in Dorset on the English Channel coast. The town is 11 kilometres (7 mi) south of Dorchester and 8 kilometres (5 mi) north of the Isle of Portland.
Weymouth holds over two hundred events throughout the year, including firework festivals, dragon boat racing, beach volleyball, handball, motocross, and the annual carnival in mid-August. Weymouth's wide and shallow sandy beach is used for swimming and sunbathing, and for beach sport events throughout the year. Nothe Fort is one of the maritime-related museums in the town.
The Pavilion Theatre is between the harbour and the esplanade, providing a venue for local community groups and schools, and hosting seasonal 'end-of-the-pier' entertainment and year-round shows and events. The main shopping centre is in Melcombe Regis, consisting of two pedestrianised streets, shops along the esplanade, and a new precinct from St. Thomas's Street. There are shops and restaurants in Hope Square and Brewers Quay. The town centre has around 292 shops.
Transport
Rail
Weymouth railway station is the last stop on the route from London Waterloo and of the routes from Westbury and Bristol.
Buses
Local bus services run from Weymouth to the Isle of Portland, Dorchester, Bournemouth, Wool, Beaminster, Axminster, and to other villages and the town's holiday parks. Weymouth is connected to towns and villages along the Jurassic Coast by the service which runs from Exeter to Poole, through Sidford, Beer, Seaton, Lyme Regis, Charmouth, Bridport, Abbotsbury, Weymouth, Wool, and Wareham.
Rates for Weymouth
Prices are per night. Please note the below is a guide, please contact us for the full rates and list of supplements.
High season is 1 February to 31 July and 1 September to 31 October.
Low season is 1 to 31 January, 1 to 31 August and 1 November to 31 December.