Tunbridge Wells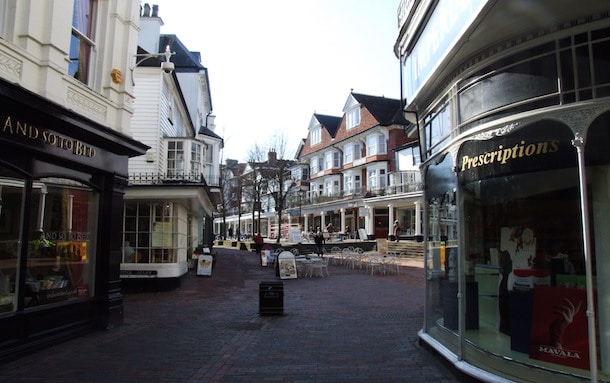 Royal Tunbridge Wells (often shortened to Tunbridge Wells) is a large affluent town in western Kent, England, about 40 miles (64 km) south-east of central London by road, 34.5 miles (55.5 km) by rail.
Tonbridge Castle is set in landscaped gardens overlooking the River Medway. Yet its glory lies not only in what can be seen. Its story is interwoven with that of kings and archbishops, tyrants and heroes, murderers and mercenaries who, on this ancient site and inside these weathered stone walls, have helped write 900 years of English history. 20 minutes from Tunbridge Wells.
Bewl Water is a reservoir in the valley of the River Bewl (which is a tributary of the River Teise), straddling the boundary between Kent and East Sussex. It is about 2 miles south of Lamberhurst, Kent, England. The reservoir was part of a project to increase supplies of water in the area. It supplies not only Southern Water's customers in the Medway towns, Thanet and Hastings, but is also used by other water companies in the area. Today, you can practice lots of outdoor activities.
Dunorlan Park is a park and grounds in Royal Tunbridge Wells, UK.Totalling approximately 78 acres (31 hectares)[1] and containing a 6-acre (24,000 m2) lake, the grounds were landscaped by Robert Marnock for Henry Reed, the merchant and philanthropist who owned the estate and the now-demolished house that once overlooked it.
Transport
Rail
The city has a station (Tunbridge Wells) who reached London in 45 minutes thanks to the Southeastern services.
Buses
Bus services is really wide in Tunbridge Wells. You can reach easily all small towns near the city but you can also find journey to go everywhere you want in UK (London, Brighton, Maidstone…)
National Express services from Portsmouth run mainly from The Hard Interchange to London, Cornwall, Bradford, Birkenhead and Eastbourne.
Rates for Tunbridge Wells
Prices are per night. Please note the below is a guide, please contact us for the full rates and list of supplements.
High season is 1 February to 31 July and 1 September to 31 October.
Low season is 1 to 31 January, 1 to 31 August and 1 November to 31 December.