Stratford upon Avon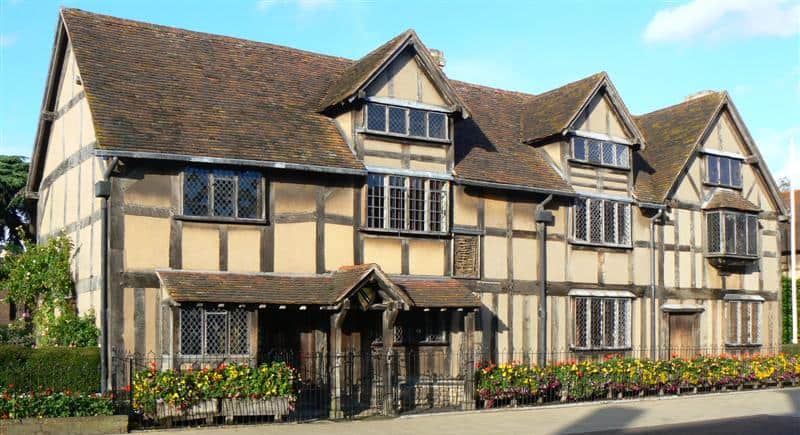 Stratford-upon-Avon is a market town in Warwickshire, England, 22 miles (35 km) south east of Birmingham and 8 miles (13 km) south west of Warwick.
The town is a popular tourist destination due to being the birthplace of William Shakespeare. The Royal Shakespeare Company resides in Stratford's Royal Shakespeare Theatre. The Swan Theatre was created in the 1980s out of the shell of the remains of the original Memorial Theatre and is modelled on an Elizabethan theatre. It is considered to be one of the finest acting spaces in the UK.
Henley Street, one of the town's oldest streets which contains John Shakespeare's house, which later became the birthplace of his son William. Henley Street is now a major tourist and shopping precinct with many al fresco cafés and street entertainers.
Sheep Street was a residential quarter in the 16th century, some of the buildings date from 1480. Today it is the restaurant centre of the town. The Shrieves House is one of the oldest still lived in houses in the town. Oliver Cromwell is thought to have stayed here in 1651. Behind The Shrieves House is a museum called "Tudor World" with recreations of 16th century life in theatrical settings.
The Bancroft Gardens and river area is a very popular place for enjoying picnics and river activities. In the summer the River Avon is busy with rowing boats, motor boats and river cruises. There are often jugglers, fire-eaters and magicians entertaining the public on the lawns. It is from here the Stratford Town Walk meet every day (even Christmas Day), to offer a guided walking tour of the town. The tour passes the Shakespeare houses, Royal Shakespeare Theatres, 15th century timber-framed buildings, William Shakespeare's school and visits Holy Trinity Church where Shakespeare was baptised and is buried.
Other tourist attractions within the town include five houses relating to Shakespeare's life. These include Hall's Croft and Nash's House, New Place, owned by Shakespeare himself, wherein he died. Near to the town are Anne Hathaway's Cottage, the home of Shakespeare's wife's family prior to her marriage, and Mary Arden's House, the family home of his mother.
Transport
Rail
Stratford-upon-Avon railway station has good rail links from Birmingham (Snow Hill station, Moor Street station) and from London, with direct trains from London Marylebone.
Rates for Stratford upon Avon
Prices are per night. Please note the below is a guide, please contact us for the full rates and list of supplements.
High season is 1 February to 31 July and 1 September to 31 October.
Low season is 1 to 31 January, 1 to 31 August and 1 November to 31 December.