Sevenoaks area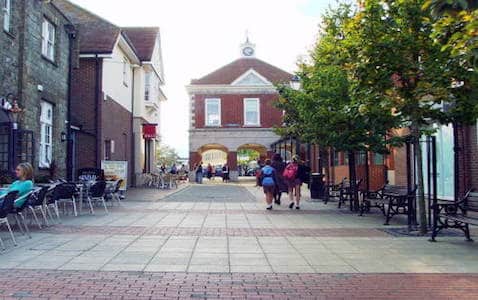 Sevenoaks is a town and civil parish with a population of 29,506 people situated in western Kent, England, south-east of London. It is served by a commuter main line railway and is 21 miles (34 km) south-east of London Charing Cross.
Lullingstone Castle is an historic manor house, set in an estate in the village of Lullingstone and the civil parish of Eynsford in the English county of Kent. It has been inhabited by members of the Hart Dyke family for twenty generations including current owner Guy Hart Dyke.
Emmetts Garden is an Edwardian estate located at Ide Hill, near Sevenoaks in Kent, UK. It is now owned by the National Trust for Places of Historic Interest or Natural Beauty (National Trust).
Knole House is an English country house in the civil parish of Sevenoaks in west Kent. Knole is one of England's largest houses. The National Trust attributes a possibility of its having at some point been a calendar house, which had 365 rooms, 52 staircases, 12 entrances and seven courtyards.
The Shoreham Aircraft Museum is located in the village of Shoreham near Sevenoaks in Kent, England, on the south-east edge of Greater London. It was founded by volunteers in 1978 and is dedicated to the airmen who fought in the skies over southern England during the Second World War.
Transport
Rail
National Rail services connect Sevenoaks with central London and destinations in other parts of the UK through two railway stations: Sevenoaks Rail Station and Bat & Ball Rail Station. Sevenoaks Rail Station is the principle station and offers easy access to Sevenoaks town centre, as well as Knole Park and the Vine Cricket Ground.
Buses
Bus numbers 402 and 404 offer regular service connecting Sevenoaks Rail Station, Sevenoaks Bus Station located on the High Street and Sevenoaks School, near the entrance to Knole Park.
Rates for Sevenoaks
Prices are per night. Please note the below is a guide, please contact us for the full rates and list of supplements.
High season is 1 February to 31 July and 1 September to 31 October.
Low season is 1 to 31 January, 1 to 31 August and 1 November to 31 December.