Scarborough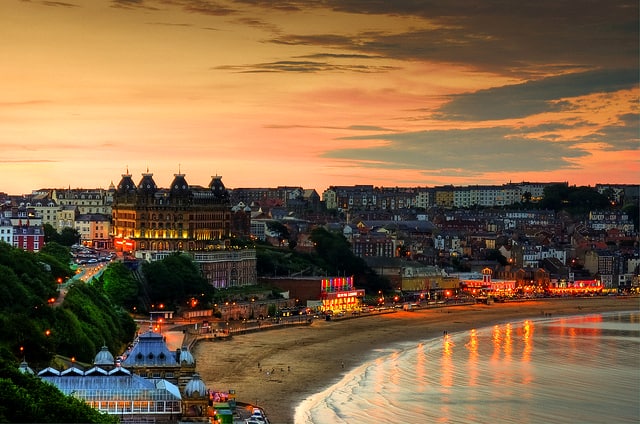 Scarborough is a town on the North Sea coast of North Yorkshire, England.
Scarborough has 3 beaches that are still popular with tourists. These are South Bay Beach, North Bay Beach, and Cayton Bay. Scarborough Castle is a former medieval Royal fortress situated on a rocky promontory overlooking the North Sea and Scarborough. The site of the castle, encompassing the Iron Age settlement, Roman signal station, an Anglo-Scandinavian settlement and chapel, the 12th-century enclosure castle and 18th-century battery, is monument of national importance.
The Scarborough Fair Collection is a museum of fairground mechanical organs and showman's engines, and is one of the largest collections of its type in Europe. Scarborough has several museum and visual-arts facilities. Wood End Museum is a creative centre including a work-space for artists and the digital cluster, plus an exhibition space.
The Rotunda Museum is a national centre for geology. There is also a creative industries network called 'Creative Coast' comprising artists, designers, writers and other creatives with the shared vision of a culturally vibrant economy on the North Yorkshire coast. There are two areas where graffiti art is legal in Scarborough, Sainsbury's basketball courts / all-weather pitch and Falsgrave Park wall. Both have seen many collaborations and murals.
The Scarborough Spa complex is home to the Scarborough Spa Orchestra, the last remaining seaside orchestra in the UK. The town is home to the annual Scarborough Jazz Festival which takes place each September at The Spa Complex, and features internationally renowned musicians.
Transport
Rail
Scarborough railway station is close to the town centre and runs services from York, Leeds, Manchester and Liverpool on the NorthTransPennine route and from Hull on the Yorkshire Coast Line. In the Summer, services also run from London.
Buses
Scarborough's bus routes link the town centre with its suburbs and local towns and cities such as Leeds, York, Hull, Middlesbrough and the North York Moors.
The town is also served by two Park and Ride services which run from each terminus to the town centre and South Bay at least every 12 minutes seven days a week, with stopping points around the town centre.
Rates for Scarborough
Prices are per night. Please note the below is a guide, please contact us for the full rates and list of supplements.
High season is 1 February to 31 July and 1 September to 31 October.
Low season is 1 to 31 January, 1 to 31 August and 1 November to 31 December.