Plymouth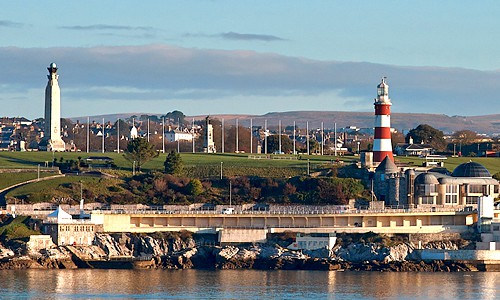 Plymouth is a city on the south coast of Devon, England, about 37 miles (60 km) south-west of Exeter and 190 miles (310 km) west-south-west of London.
Union Street was at the heart of Plymouth's historical culture and was where sailors from the Royal Navy would seek entertainment. It is now the late-night hub of Plymouth's entertainment strip where most clubs play commercial dance and R&B, there are some which play less popular genres. Other clubs and bars are at the Barbican Leisure Park and on Lockyer Street. There are a number of bars with live music. Outdoor events and festivals include the annual British Firework Championships and the Music of the Night which is performed in the Royal Citadel to raise money for local and military charities.
The city's main theatres are the Theatre Royal,the Drum Theatre, and its production and creative learning centre. The Plymouth Pavilions stages music concerts, basketball matches and stand-up comedy. There are also three cinemas: Reel Cinema, Plymouth Arts Centre and a Vue cinema at the Barbican Leisure Park. The Plymouth City Museum and Art Gallery has six galleries. The Plymouth Athenaeum, is a society dedicated to the promotion of learning in the fields of science, technology, literature and art.
The Royal Citadel was built in 1666, to defend the port from naval attacks, and to train the armed forces. Guided tours are available in the summer months. Smeaton's Tower was built in 1759 as a lighthouse on rocks 14 miles (23 km) off shore, but was dismantled and the top two thirds were rebuilt on the Hoe in 1877. It is open to the public and has views over Plymouth. Plymouth has 20 war memorials including: Plymouth Naval Memorial, and the Armada Memorial, to commemorate
the defeat of the Spanish Armada.
Also on Sutton Pool is the National Marine Aquarium which displays 400 marine species and includes Britain's deepest aquarium tank. Crownhill Fort is a well restored example of a Palmerston's Folly. It is open to the public.
.
Transport
Rail
Great Western Railway provide services on the CrossCountry network to provide trains to much of the UK
Buses
There are many local bus services that provide transport to neighbouring towns and villages, and coach services linking Plymouth to the rest of the UK.
Rates for Plymouth
Prices are per night. Please note the below is a guide, please contact us for the full rates and list of supplements.
High season is 1 February to 31 July and 1 September to 31 October.
Low season is 1 to 31 January, 1 to 31 August and 1 November to 31 December.