Great Yarmouth/Lowestoft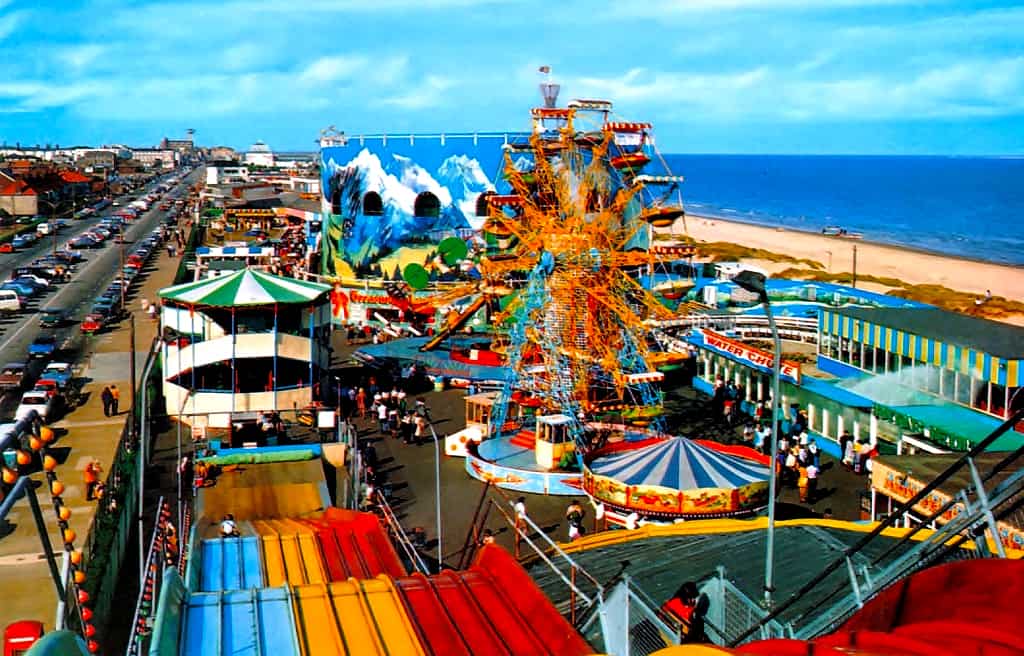 Great Yarmouth, known to locals as Yarmouth, is a coastal town in Norfolk. It is located at the mouth of the River Yare, 20 miles (30 km) east of Norwich.
The Tollhouse, with dungeons, dates from the late 13th century and is said to be the oldest civic building in Britain. Great Yarmouth Minster is situated just off the market place, on Church Plain is the largest parish church in England.
Surrounding part of the parish cemetery and extending around parts of the old town, are the longest and most complete Medieval Town Walls outside of York, including several defensive towers such as King Henry's Tower. The market place is one of the largest in England, and has been trading since the 13th century. It is also home to the town's shopping sector and the famous Yarmouth chip stalls, as well as leading to historic alleyways.
Yarmouth has two piers, Britannia Pier and Wellington Pier. The Wellington has a family entertainment centre including a ten pin bowling alley with floor to ceiling windows overlooking the beach. Britannia Pier is home to the Britannia Theatre which during the summer months features well known acts. Marine Parade in August 2013, with the derelict Empire Building in the foreground and the Atlantis Tower in the background
Great Yarmouth's seafront is known as "The Golden Mile". Along its sandy beaches are many indoor and outdoor attractions and amusement arcades. The South Denes area contains the Norfolk Naval Pillar. This was made as a tribute to Admiral Nelson. The Norfolk Nelson Museum on South Quay houses the Ben Burgess collection of Nelson memorabilia and is the only dedicated Nelson museum in Britain.
Transport

Rail
Great Yarmouth is connected to Norwich by the Wherry Lines from Great Yarmouth railway station.
Buses
Local bus services link the suburban areas of Martham, Hemsby,Gorleston, Bradwell and Belton These are operated by First Norfolk & Suffolk and services to towns further afield such as Beccles, Southwold, Acle and Diss are operated by Anglian Bus.
Rates for Great Yarmouth/Lowestoft
Prices are per night. Please note the below is a guide, please contact us for the full rates and list of supplements.
High season is 1 February to 31 July and 1 September to 31 October.
Low season is 1 to 31 January, 1 to 31 August and 1 November to 31 December.