Clacton/Frinton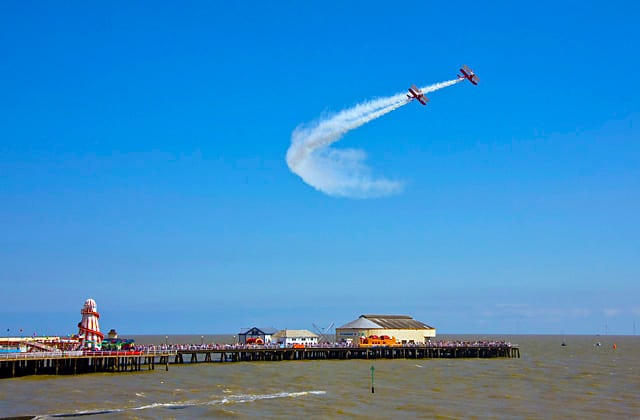 Clacton-on-Sea is in Essex, England. The town provides many entertainment and day-trip facilities and has many cafe's and restaurants.
Clacton has a pleasure pier, arcades, a golf course, caravan parks and an airfield. The town and its beaches are popular with tourists in the summer, and there is an annual entertainment programme. Clacton Airshow, an aerial display, takes place on the Thursday and Friday before the August Bank Holiday, with historic and modern aircraft such as the Lancaster, Spitfire, Hurricane, Harrier, Jaguar, Tornado, and helicopters. There are also wing-walkers and the Red Arrows.
Clacton has a shopping area with many of the usual national chains represented, and a Factory Shopping Village in the north of the town. Clacton has two theatres, the West Cliff Theatre and the Princes Theatre. The West Cliff is one of the last theatres in the country to put on an old style summer show.
Transport

Rail
The town is served by Clacton-on-Sea railway station (90 minutes to London Liverpool Street station) via the Sunshine Coast Line.
Buses
The town is served by bus routes providing services to Colchester, Manningtree, Harwich and Walton-on-the-Naze. National Express operates coach services to/from London and Liverpool.
Prix Clacton/Frinton
Prix par personne et par nuit. Veuillez noter que l'information ci-dessous est guide, s'il vous plait, contactez nous si vous avez besoin de suppléments.
La haute saison est à partir du 1er Février au 31 Juillet et du 1er Septembre au 31 Octobre.
La basse saison est à partir du 1er au 31 Janvier, du 1er au 31 Août et du 1er Novembre au 31 Décembre.