Blackpool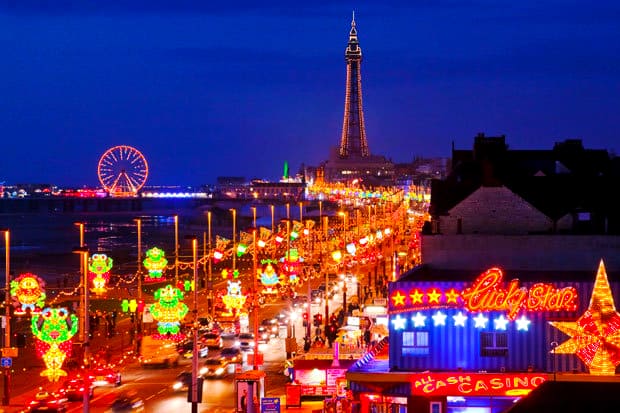 Blackpool is a seaside resort in Lancashire, England, on England's northwest coast. The town is 17.5 miles (28.2 km) northwest of Preston, 27 miles (43 km) north of Liverpool, 30 miles (48 km) northwest of Bolton and 40 miles (64 km) northwest of Manchester.
Blackpool Tower was Inspired by the Eiffel Tower in Paris,France, it is 518 feet (158 m) in height. Beneath the tower is a complex of leisure facilities, entertainment venues and restaurants, including the world-famous Tower Ballroom and Tower Circus. North Pier includes a small shopping arcade, a small tramway and the North Pier Theatre toward the end of the pier. Grand Theatre, Blackpool was built in 1894. It offers an eclectic mix of drama, dance, opera, ballet and comedy including a yearly Pantomime.
Sandcastle Water Park has 18 slides and attractions including the largest indoor rollercoaster waterslide in the world. Central Pier includes a large Ferris wheel and shops, and South Pier is almost directly opposite the Pleasure Beach, it houses a theme park. Pleasure Beach Blackpool is an amusement park with rides. It is one of the most visited tourist attractions in the United Kingdom, and one of the top twenty most visited amusement parks in the world. In 2014 it was voted as the best theme park in the United Kingdom and the ninth best park in Europe by the Travelers' Choice Awards.
The Winter Gardens is a large entertainment and conference venue in the town centre. It includes the Opera House, Pavilion Theatre, Empress Ballroom, Spanish Hall, Arena and Olympia. Stanley Park is a historic park and gardens with golf course, cricket club, sports arena, lake, art deco restaurant, model village and gardens. Blackpool Sands stretch along the whole seafront and comprise the main natural attraction for tourists. Blackpool Zoo provides a home to over 1,500 animals from all over the world.
Viva Cabaret Showbar & Events Suite is a Vegas-style production show venue next to the Tower. The Great Promenade Show is a series of modern artwork installations along Blackpool's South Promenade, including the Blackpool High Tide Organ, an unusual musical monument that uses the movements of the sea to make music. Sea Life Centres is a large aquarium featuring a walk-through shark tank, located on the Promenade near Central Pier.
Transport
Rail
Northern and Trans Pennine Express operate the main train services in Blackpool. The stations are; Blackpool North, Blackpool Pleasure Beach, Blackpool South, Layton, and Squires Gate which serves Blackpool International Airport.
Buses
Blackpool Transport operates the main bus services in and around Blackpool. Stagecoach operates the regional bus and coach services in and out of Blackpool.
Rates for Blackpool
Prices are per night. Please note the below is a guide, please contact us for the full rates and list of supplements.
High season is 1 February to 31 July and 1 September to 31 October.
Low season is 1 to 31 January, 1 to 31 August and 1 November to 31 December.