Bath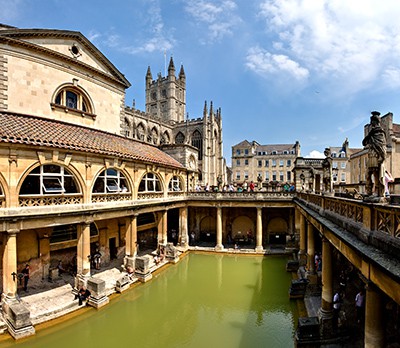 Bath is a city in the county of Somerset, South West England. Bath is in the valley of the River Avon, 97 miles (156 km) west of London and 11 miles (18 km) south-east of Bristol. The city became a World Heritage Site in 1987.
Bath has a vast amount of attractions from the ancient Roman bath house, Bath Abbey, museums, galleries, parks and areas of outstanding natural beauty. To list just a few, these sights include;
The Roman Bath house. The baths themselves are built directly over natural hot springs. Roman foundations, pillar bases, and baths can still be seen.
Bath Abbey was a Norman church built on earlier foundations. The present building dates from the early 16th century and has buttresses and crocketed pinnacles decorating a crenellated and pierced parapet.
Bath Circus. The Circus consists of three long, curved terraces to form a circular space or theatre intended for civic functions and games. The inspiration for this was the Colosseum in Rome.
The Royal Crescent was built between 1767 and 1774 and is about 30 houses built completely uniform and symmetrical.
Pulteney Bridge is not just a means of crossing the river, but also a shopping arcade. It is currently one of the only surviving bridges in Europe to contain shops built across its full span on both sides.
Transport
Rail
Bath is served by the Bath Spa railway station, which has regular connections to London Paddington, Bristol Temple Meads, Cardiff Central, Cheltenham, Exeter, Plymouth and Penzance, and also Westbury, Warminster, Salisbury, Southampton, Portsmouth and Brighton.
Buses
National Express operates coach services from Bath Bus Station to a several cities. Bath also has a network of bus routes with services to surrounding towns and cities.
Rates for Bath
Prices are per night. Please note the below is a guide, please contact us for the full rates and list of supplements.
High season is 1 February to 31 July and 1 September to 31 October.
Low season is 1 to 31 January, 1 to 31 August and 1 November to 31 December.