Barnet and Southgate Overview
Barnet and Southgate gives you the best of both worlds. They are only a short hop away from central London, and they are also within touching distance of Hertfordshire's beautiful countryside.
But this is not the only thing these two lovely places offer, the areas also have a lot of appealing features of their own which includes cultural diversity, a friendly community and a wide range of leisure activities to partake in.
Travel information
Barnet and Southgate are well covered areas, with plenty of London Underground and National Rail stations to choose from. Totteridge & Whetstone and High Barnet Underground Station are both served by the Northern Line which can take you to locations such as Camden Town and London Bridge. New Barnet, Oakleigh Park and Barnet Tunnel railway stations are also useful if you want to travel around London but also to travel outside of London.
There are also many bus routes that serve Barnet and Southgate including the numbers 263, 298 and 326 which can take you to places such as Islington, Potters Bar and Brent Cross Shopping Centre.
History
The town of Barnet was an ancient settlement and the first recording of its name was Barneto in 1070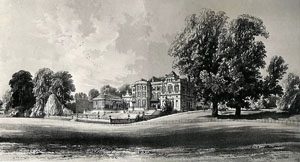 . It means 'the land cleared by burning' in Old English, referring to the clearing of the area which was once densely forested in its early years.
Southgate's name originally comes from it being the South Gate of Enfield Chase, the King's hunting rounds. You will see this reflected in the street names in the area such as Chase Road and Chase Side.
Many notable people were born and/or have lived in Barnet and Southgate over the years, some of these include:
• Amy Winehouse
• Rachel Stevens, S Club 7
• Sir Thomas Johnstone Lipton, 1st Baronet, Founder of Lipton Tea
Local attractions
From rugby to museums, Barnet and Southgate have many things that will keep you entertained!
Barnet Museum
Barnet Museum is a free local history museum in the area and it is run by volunteers. It contains a great collection of hundreds of artefacts which shows the history of Barnet and those who have resided there, from the Bronze Age to today.
For more information, click here
Victoria Recreation Ground
Victoria Recreation Ground is a public park in New Barnet and is one of Barnet's 'Premier Parks'.
If you are a sporty person then this park is perfect for you as it has football pitches, tennis and basketball courts which are accessible to all.
RAF Museum
This museum is must-see for anyone who has an interest in aviation, history and warfare. Its collection is fantastic, it has Spitfires, Hurricanes, Lancasters, Wellingtons, Harriers, Lightenings and many other aircrafts.
If you are interested, click here for more information
Saracens F.C. – Barnet Copthall
If you're a Rugby Union fan and fancy watching some Premiership Rugby whilst in England, Saracens F.C. is the club to see.
For ticket information, click here
Accommodation in Barnet or Southgate
If you are interested in booking a homestay in Barnet or Southgate (Zone 4+), click here to apply.